Christopher Alexander et al: A Pattern Language. Towns, Buildings, Construction (1977)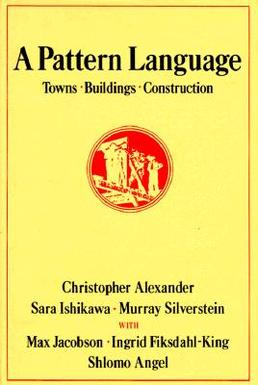 Buy the book on Amazon (affiliate link)
Inspired the Gang of Four's famous book, "Design Patterns".

The format is similar enough: each pattern is formatted the same way, with a short introduction, a long explanation, a sketch/illustration/diagram, and further references. (Among other pieces.)
Unlike the GoF book, this is a much more tightly knit hypertext with lots of building-blocks and higher level structures that tie in foundational patterns into larger structures.
Full reference I use in my notes:
[

#alexander1977patt

]:

 

Christopher

 Alexander, Sara Ishikawa,
  Marry Silverstein, Max Jacobson, Ingrid Fiksdahl-King,
  and Shlomo Angel (1977):  _A Pattern Language. Towns, Buildings,
  Construction_, New York: Oxford University Press.