I am not good at reading crash logs of my apps. Some errors are obvious, like index out of bounds exceptions. Others require actual symbolication of the crash log to reveal the symbol aka function name in the stack trace. You can do this in the command line and interactively explore the crash reasons like a caveperson.
Microsoft is becoming more and more relevant for Apple platform devs. Microsoft's App Center swallowed HockeyApp and now the GitHub repository of the underlying PLCrashReporter framework has migrated to @microsoft on GitHub. They have now just released v1.4.0, so it looks like the future of Open Source crash reporting is bright for a while.
Check out the PLCrashReporter repo on GitHub.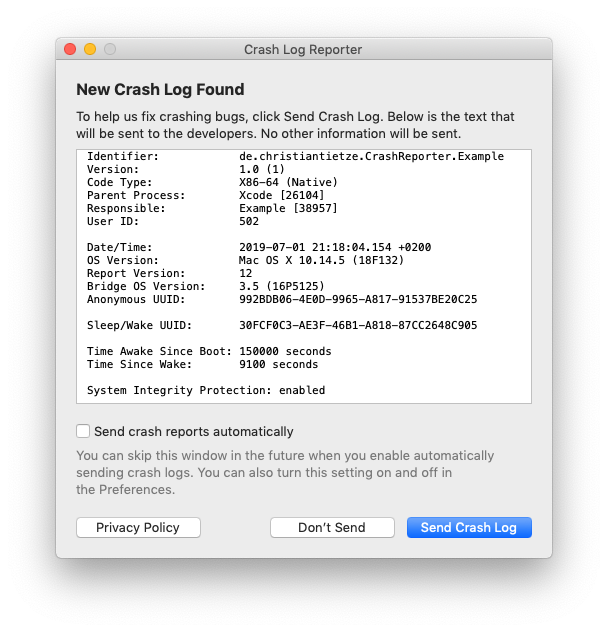 I compiled a crash reporter library with CocoaPods support. Check it out:
https://github.com/CleanCocoa/CrashReporter/
The past couple of days, I've been working on integration of an automatic crash reporter. Turns out that on some machines The Archive is crashing regularly during search, and I want to track this down. I need data by more than the most courageous users who can venture into the Console to track down crash report files and send them to me.
So I bit the bullet and began work on a server script that would accept crash report files and email them to me. I think that's better than making users email me crash reports directly. Not everyone has Mail.app set up on her Mac, after all.
Fortunately, Brent Simmons open-sourced NetNewsWire 5 and blogged about his crash reporter. Brent has decades of experience on the Mac, so whenever he publishes a practical tip, I listen.
Just have a look at the code: Collecting .crash files and sending them over? Sounded simple enough! NetNewsWire even sports a very humble crash reporter UI, and automatically sending reports on the user's behalf if the user choses to do so. The required Swift types are simple enough to integrate once you figure out where Brent put all the helper extensions :)
I cannot stress enough how amazing open source is. All this experience, assembled in publicly available code repositories for everyone to grab and use. This is crazy.
I am now rolling this out for my apps, starting with the WordCounter and The Archive on their respective "beta" update branches to see how it works in practice. The Swift code is simple and I trust it doing its job. But the server script, well, it needs to be battle-tested now!
I'm going to add public-key encryption of messages and/or some sort of authentication to prevent malicious attackers from spamming me with emails that, well … I send to myself.