I will be hosting a webinar about distributing your app outside the Mac App Store next week. It's free, and you're very welcome to attend!
Wednesday, February 15th, 2017 @ 10:00 AM PST (will run 1 hour)
Topics include:
Ditching the Mac App Store – Why, and what it means.
Is There Life After the Mac App Store? – Choosing an e-commerce provider.
Getting Back to Development – How you change your code to work outside the Mac App Store.
Plus you'll see me live. That alone should be motivation for you to visit, no matter the topic :)
Disclaimer, aka Code of Honesty and Transparency
Maybe you just arrived on my blog and don't know how I do things around here, yet, and how much I value morality over profit anytime. So let me erase your doubts about this webinar cooperation.
I use FastSpring to sell my stuff. I really like their service, so I wrote a guide in 2015. FastSpring in turn was impressed by my initiative and helped me spread the word a bit and provide background info whenever I needed anything. I am not getting paid by FastSpring for the book. It's my own creative work. I maintain it because I think it helps you, fellow developer, to set up your own indie business.
Then late 2016, FastSpring approached me as their go-to expert for Mac app development. They plan to show how easy it is to use FastSpring to distribute Mac apps. In other words, they want to own part of the good news for obvious marketing reasons.
With the recent Out-of-App-Store Success Stories by Rogue Amoeba and Kapeli, it may even be a growing market.
I was skeptical at first. I will not violate my strong ethics; teaching people the One True Way™ is more important than easy money. But I came to find FastSpring values delivering useful content over running a 60-minute ad show. From the get go, FastSpring wanted me to create the content. Not even once did they suggest I add something to my slides. They totally risk I go live on Wednesday and tell people to use a competing service. But I won't, because I know no better service provider. I liked the concept, so I agreed. I am getting paid by FastSpring for this webinar gig. But it's 100% my webinar.
To stay true to myself, I will give genuinely helpful advice to empower the attendees to become independent. Of course I'll show FastSpring's features, just like the screenshots I put in my book. All because I believe in their service, not because they bought my loyalty with the speaker fee.
In short, this is not an advertisement for FastSpring. I haven't sold my soul. It's a cooperation out of mutual respect.
Hope to be seeing you around on Wednesday!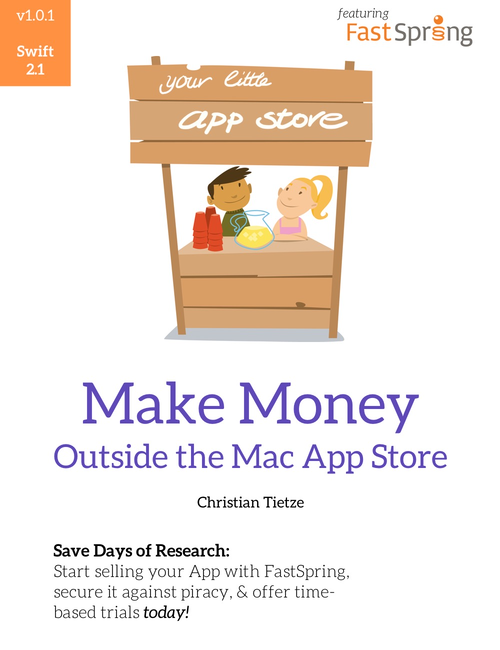 My e-book about creating and selling apps for Mac without the Mac App Store is now available on amazon.com if you prefer a print edition!
Why does print cost less? : The digital edition will be updated regularly with the latest Swift syntax. Further editions and major revisions are free for customers, too. I can't do that with a print edition on your bookshelf, obviously. That's why.
It feels weird, I know, because paper costs money and print book feel more precious. I'm making about 50% less with each sale, so there's quite some cost involved printing the book. The feeling of physical good in your hand is part of the perceived value, and everyone would tell me I should factor that in, but I'm a bad businessman. It's the right thing to do. Why should you pay more for something with less long-term value only because my costs are higher?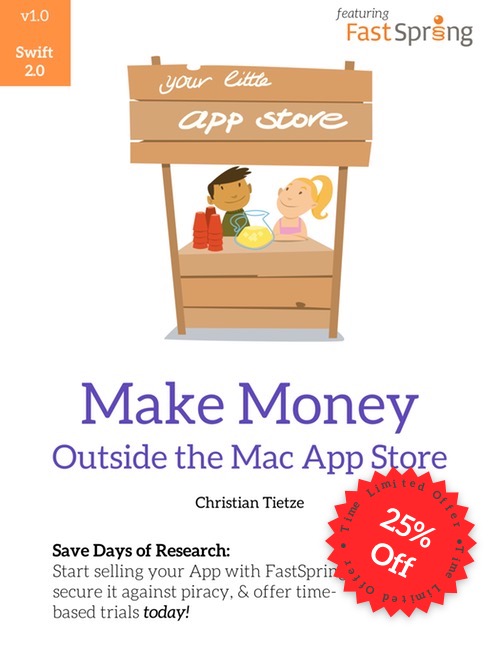 Today I'm proud to announce the release of my e-book Make Money Outside the Mac App Store!
Get it for $25 until Dec 24th from my store!
Shaving off VAT and then again 30% for Apple for every purchase of your app in the Mac App Store can be madness: the only real benefit is that people know how to operate the store. But if you're just starting to run your business, discoverability is hardly a feature.
Instead of drowning in the warehouse that the app store is, put your software in your own store. You have to build an audience anyway to get started. So stay in touch with them. Know your customers. And stop giving away 30% for a promise that doesn't hold.
Save days of research and implement the techniques today
Copy

&

paste Swift

2.0

code to integrate into your app in <1 hour
Utilize in-app purchase of licenses for a higher conversion instantly
2 fully functional sample applications, including a time-based trial app
Secure license code generation and verification included
Take a look at the details page for more info.
This book will save you hours of research and days of fiddling with SDKs. It shows you how to set up products for sale on FastSpring including automatic license code generation and then guides you through the process of adding license verification to your app.
Don't need all the explanations? Just follow the setup steps and copy the code into your project and you're ready to roll in half an hour!
I'm not affiliated with FastSpring. I just think their service is awesome.
Here's what FastSpring's CTO Mike Smith has to say about the book:
We appreciate Christian's efforts in creating a guide that enables Mac developers to sell applications through FastSpring's award-winning e-commerce platform. He has provided detailed instructions to help developers configure key elements of their online sales process. The spirit of community captured in his book reflects FastSpring's mission to connect people globally in the digital economy.
I truly believe in the spirit of community and I believe you can make it as a developer without the App Store. This book is here to empower you so you don't have to figure out all the scary details.
So many other indies rely on FastSpring, too, including:
Smile Software (TextExpander, PDFpen)
Realmac Software (Clear, RapidWeaver)
Tyler Hall (VirtualHostX)
Ironic Software (Yep, Leap)
Bohemian Coding (Sketch)
toketaWare (iThoughtsX)
well, and me, obviously :)
Get to know their stories from this book. Be inspired and take the leap.
Because I think it's so worth your time as a Mac developer, get it for 25% off until Christmas when you buy from my store.